1956 Ford School Bus Chassis Brochure
B-500 through B-750 series. Please click the photos for full-size views.

---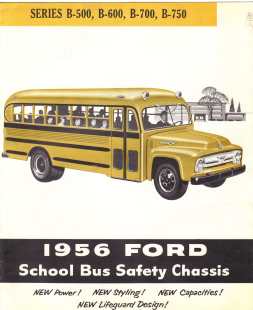 1956 Ford School Bus Safety Chassis. New Power! New Styling! New Capacites! New Lifeguard Design!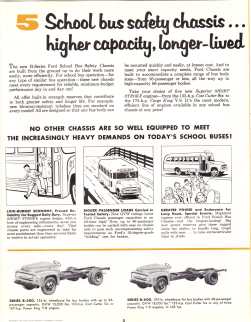 5 New School Bus Safety Chassis: Higher Capacity, Longer-Lived. No other chassis are so well equipped to meet the increasingly heavy demands on today's school buses!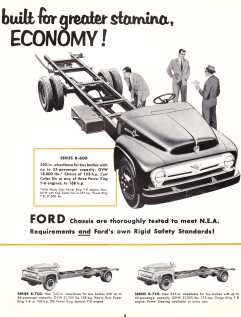 Built for greater stamina; economy. Ford chassis are thoroughly tested to meet N.E.A. requirements and Ford's own rigid safety standards!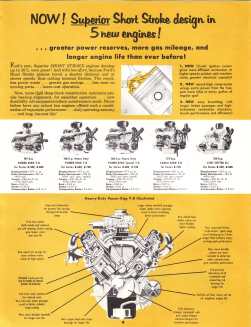 Now...Superior short stroke design in 5 new engines! 223 CID 6-cyl, 272 CID Y-block V-8 ( 3 models, Std. and Heavy Duty), 302 CID Y-Block V-8.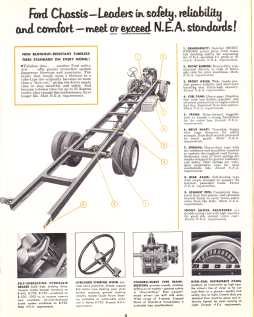 Ford Chassis: Leaders in safety, reliability, and comfort--Meet or exceed N.E.A. standards.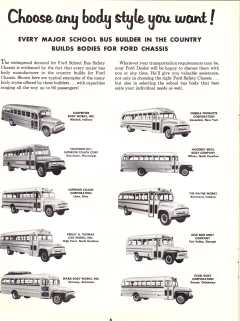 Choose any body style you want! Every major school bus builder in the country builds bodies for Ford chassis.
Carpenter Body Works, Inc. Mitchell, Indiana.--- Southern Div. Superior Coach Corp. Kosciusko, Miss.
Superior Coach Corp. Lima, Ohio.--- Perley A. Thomas Car Works, Inc. High Point, N.C.
Ward Body Works, Inc. Conway, Ark.--- Oneida Products Corp. Canastota, N.Y.
Hackney Bros. Body Corp. Wilson, N.C. ---The Wayne Works, Richmond, Ind.
Blue Bird Body Co. Fort Valley, Ga. --- Excel Body Corp. Durant, Ok.
(Of these makers, only Thomas and Blue Bird are still in existance today as school bus builders).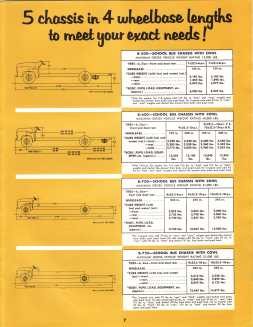 5 Chassis in 4 wheelbase lengths to meet your exact needs! (B-500, B-600, B-700, B-750)



School bus safety chassis specifications.


---
Return to historical bus, truck, and tractor literature page
Retrochad's Home Page